Two more days til my weekend, woohoo! It's only a one-day weekend but with the new shift kicking in, I actually end up having my new weekend a mere two days later. Shittier hours, but there will be the plus side of not having to wake up at the insane hour of five am. Always a good thing. I can actually make it through the
Colbert Report
without passing out exhausted...(god getting older sucks donkey balls).
And now for something completely different.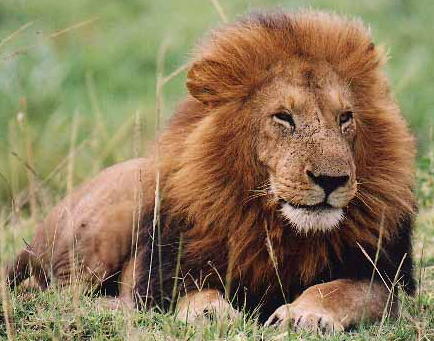 You're a Lion!

Wherever your particular jungle might be, you are considered king or
queen. With a noble yet relaxed air, you are able to control those around you by
implied threat of force. There are those that would attempt to tame you, or even
call you yellow, but you know that you're far too bold for that. You've often been
seen hanging out on the steps of public libraries. Your favorite US state is
Maine.


Take the Animal Quiz
at the Blue Pyramid.
Yeah, I don't know about that. Maine? Wtf? I did have a picnic in Maine once, so it could be true.
Wow kids, really got nothin' today. But for some reason I feel the need to post, I'll list the things I'd like to do one day. My job occasionally leaves me with
not just
the longing for more but sometimes, the time to actually write down what. And then get depressed about it. Good times. Needless to say, it's in no order.
1. Venture out on a sailboat
2. Live in NYC for one year
3. See a Kenneth Branagh play live (preferably one he's starring in, not just directed)




4. Eat oysters from somewhere I don't fear them
5. Master the art of strumming and singing guitar (yes, at the same time)
6. Finish my goddamn backyard so it doesn't look abandoned
7. Stay at the Bear Hotel in Wales again and write like crazy
8. Take a decadent mudbath (at a snobby spa if possible)




9. Do SXSW again (music *and* movies)
10. Take a hot air balloon ride (somewhere pretty please)
11. Visit Calgary and/or Alberta, Canada (both so beautiful, I'll take either)
12. Go back to Les Halles in NYC for that bearnaise sauce with my steak, have another damn digestif and take four fucking hours to eat my meal just like last time
13. Have an olive oil tasting party like Fine Cooking suggested once in one of its reminiscently snobby moments




14. Go to Comic-Con in San Diego
15. Master the art of budgeting and restraint (this is too radical, really)
16. Re-learn the left hand of the piano
17. Get back into video editing (hahahaha)
18. Visit the rainforest in Central America (see? a new place, already done the one in Thailand)
19. Take D to Koh Samui (in Thailand...just when you thought I was done re-doing stuff); also hit Swenson's, the only one left in the world (ok, maybe not)
20. Go to Greece. Totally random, I know. Why the fuck not?
21. Go to the Twin Peaks marathon in Oregon or Washington or wherever the hell they hold it.
22. Learn how the hell the stock market works
23. See Patty Griffin in concert again and she won't play lame shit this time
24. See Common Rotation again and it will be just as much fun
25. See Madonna live (playing only old hits, of course)




26. Eat at another restaurant where 'digestifs' are an option
27. Drive one of my favorite bitchin movie cars (I'll take the Streets of Fire or Supernatural car and that's about it)




28. Own a 35mm print of Streets of Fire
29. Exercise again and have Holly Hunter arms
30. Spend 1-2 months in Italy and actually utilize those two years of college Italian already obliviated
31. Own my (our) own repertory theatre (details of this would be its own other post, frankly)
32. Audition and do more plays (writing them, even, would be just dandy)
33. Have a Japanese-esque toilet seat in my home, complete with heater and bidet
34. Have my own gory death scene in a horror movie
35. Write a full script
36. See Simon & Garfunkel again (didja see that? "again." Better seats this time, please).
Ok, that's quite enough. 36 is a fairly random enough number, especially for vapid ramblings. I'm sure there are things I forgot to include that would be far worthier of my time and efforts, however, these are really just off the top of my head.
And fuck it:
37. Have a cameo on STNG in which I get to nod at Picard on my pass down the hall (who says realism has to enter into this? can I help you?)